my flock
Graz 2016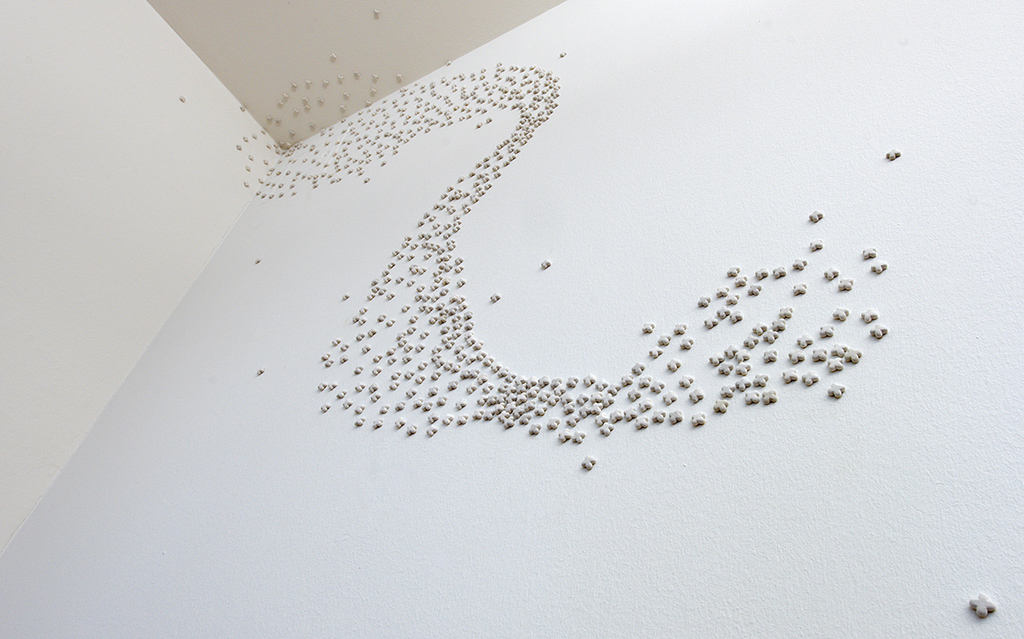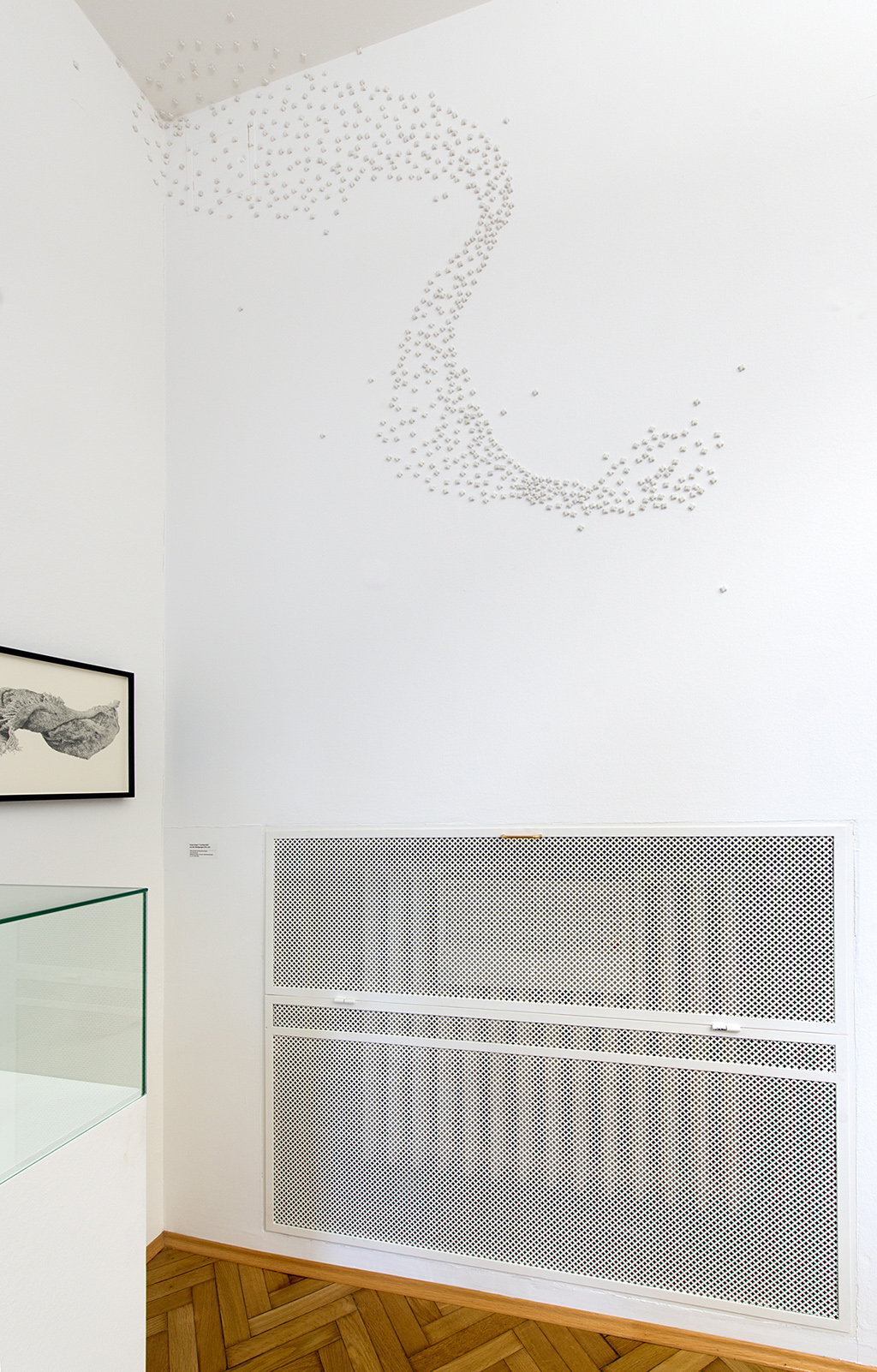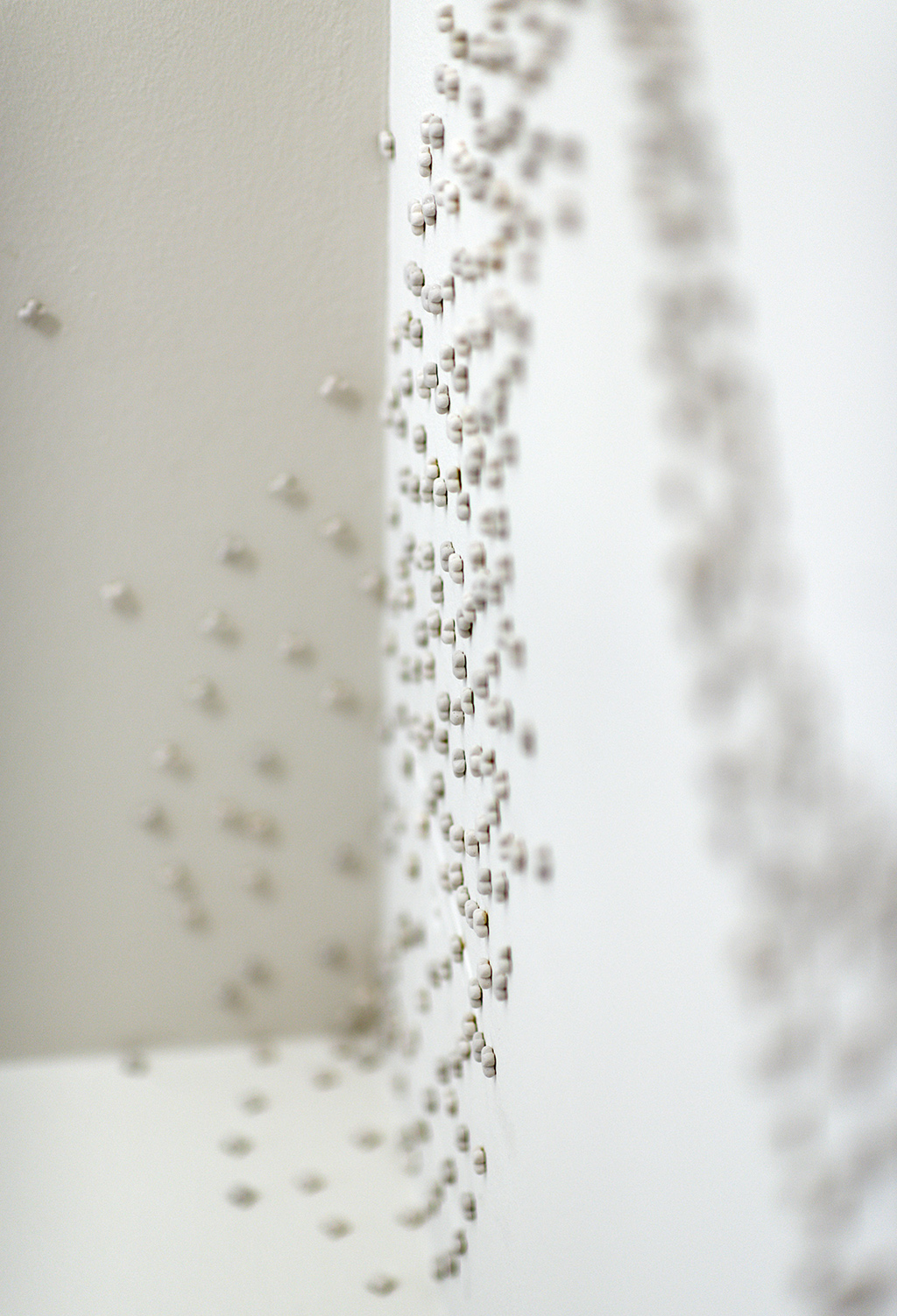 1,6 x 1,6 x 0,4 cm/650 pieces of plaster
Photo: Johannes Gellner
a m o k
Joanneum, Graz 2016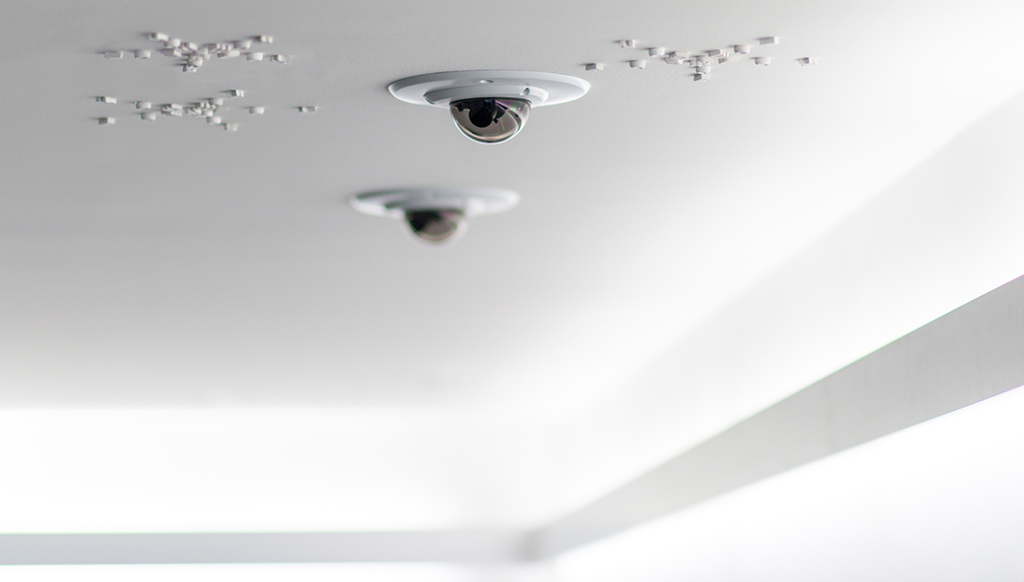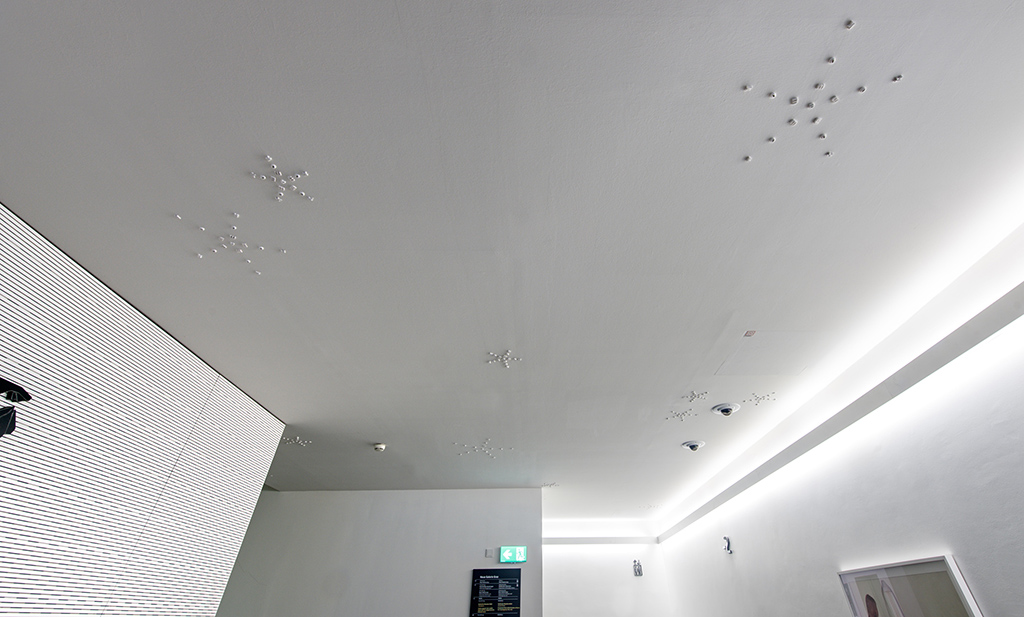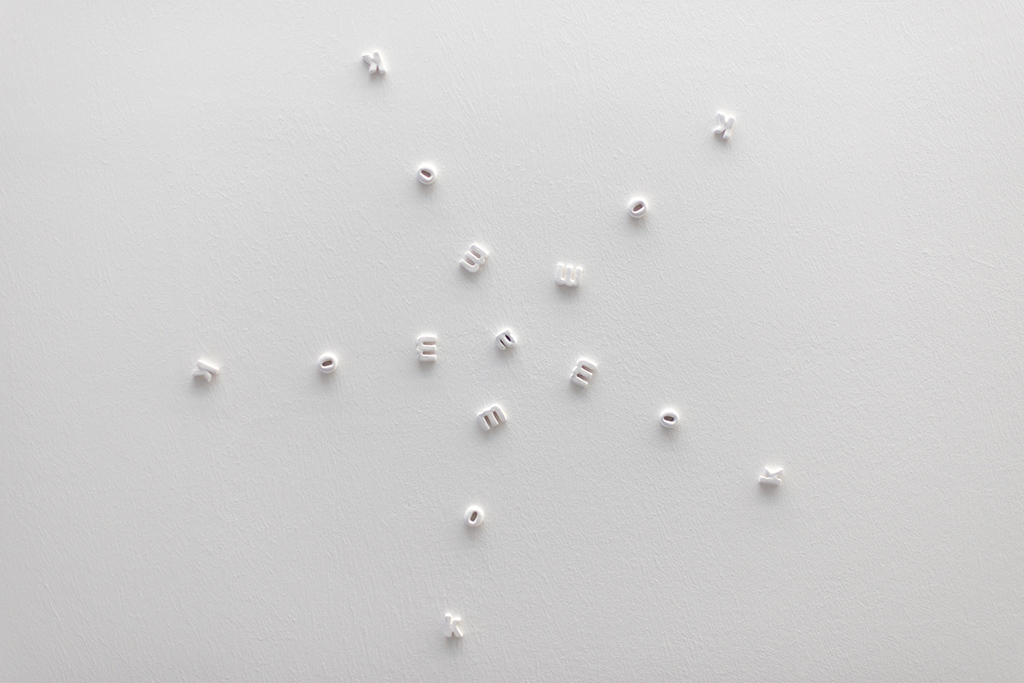 letters of plaster ca. 2 x 1,5 x 0,5 cm
Photo: Johannes Gellner
the ship song
KIG, Graz 2015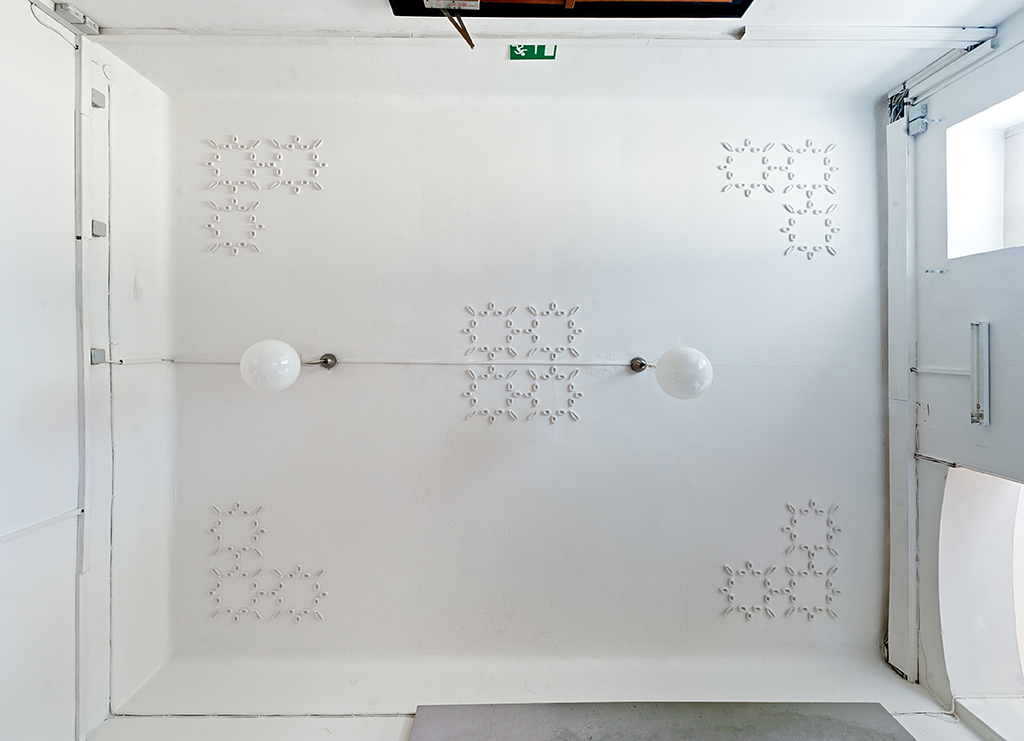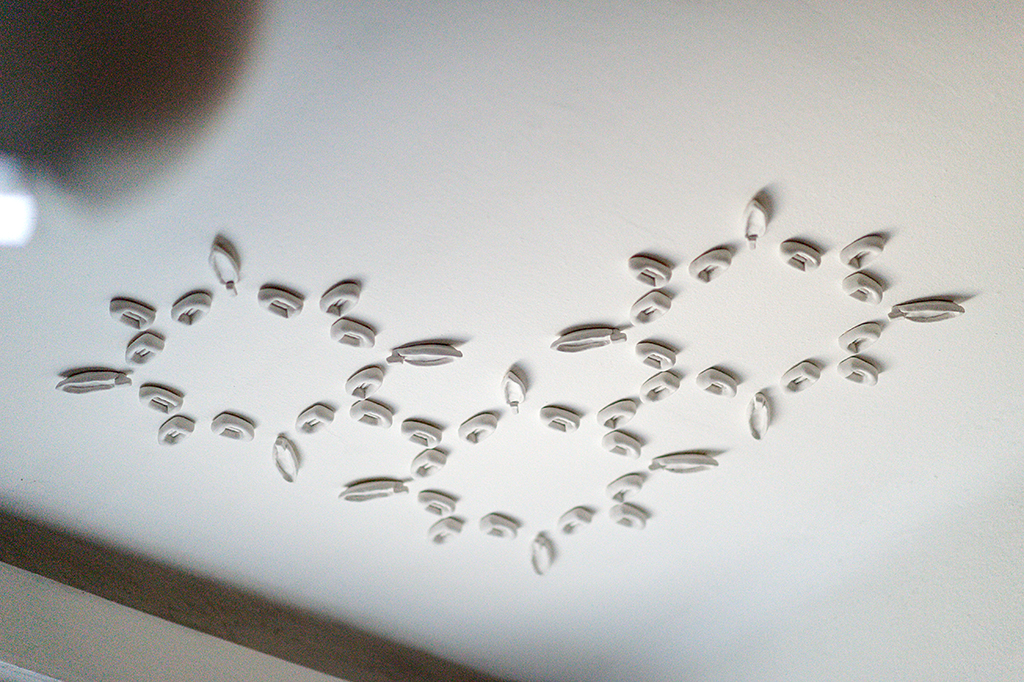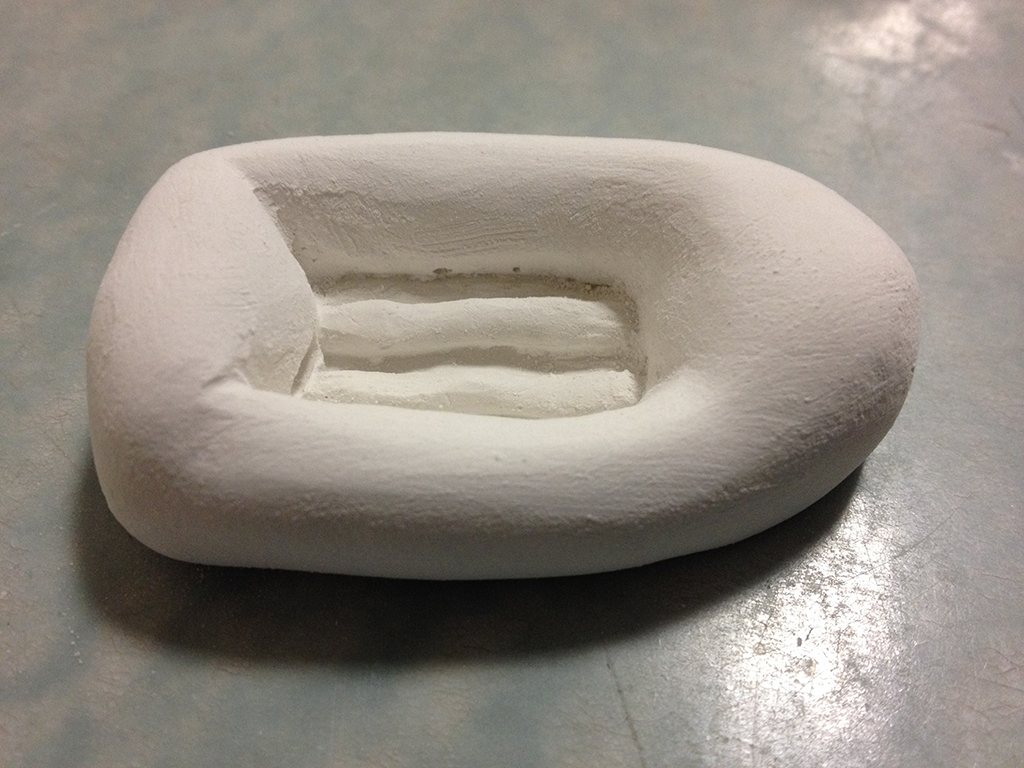 A formation, a restructuring, a new positioning, a poetically adapted arrangement upside down. Contemporary stucco has arrived at KIG.
Refugee boats that are floating on the high ceiling unobtrusively and ornamentally.
240 gypsum plaster boats 6×3.5cm and 10 x 3cm
The two upper photos have been taken by Johannes Gellner
Bang! Bang!
Graz 2015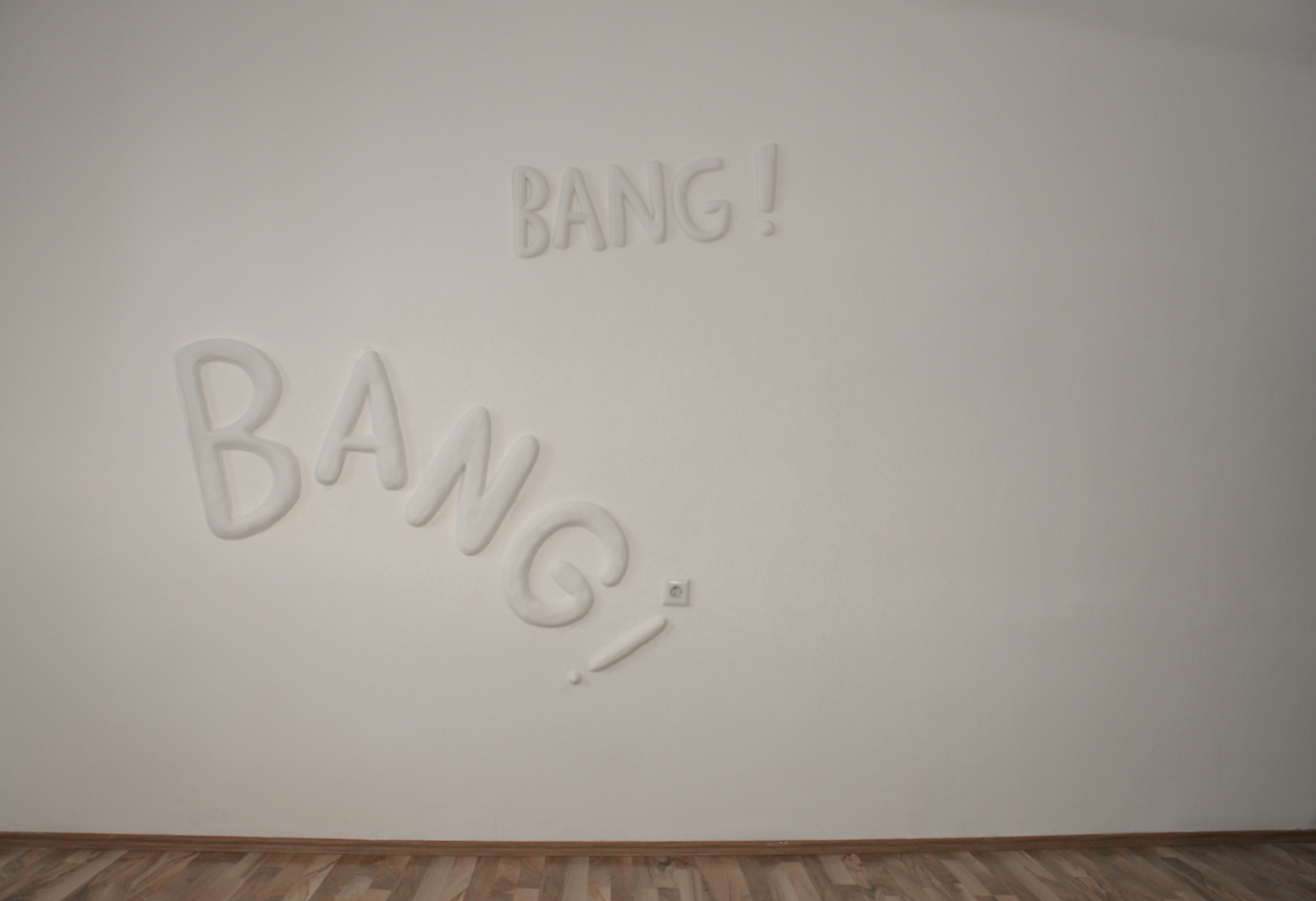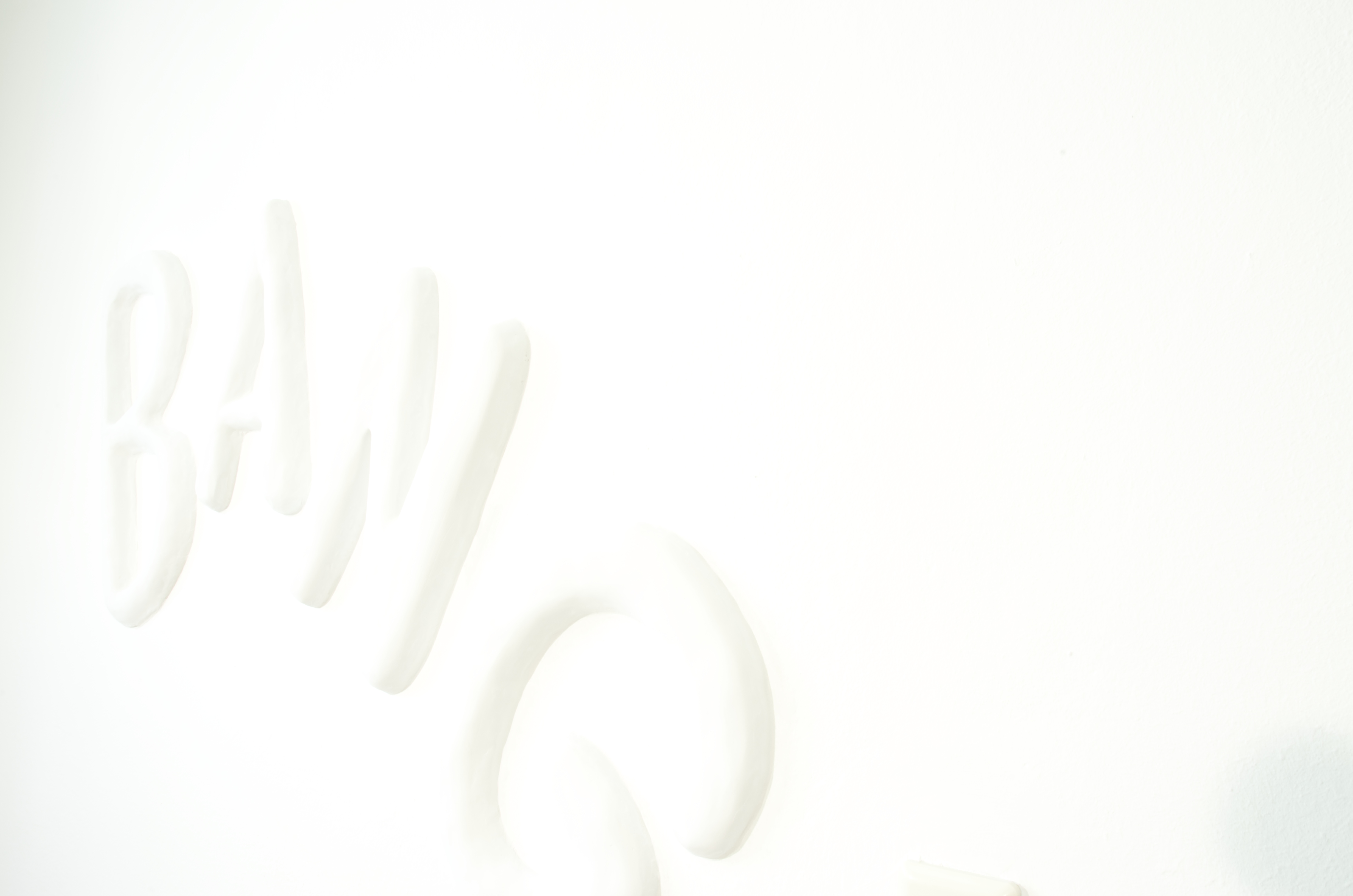 Bang! Bang! kicks off a series of loud, powerful words.
This stucco series aims at sculpturally representing emotionally charged or flashy words such as e.g. "Bang! Bang!" in order to let them pictorially fade away. In this context, the dynamics of strong words is decontextualized in the form of pale and static curvatures on the wall. The "strong" word is frozen on the wall. It almost disappears. It can be grasped literally.
20-40 cm letters of plaster, with a depth of 10 cm
hidden living secrets
Salzburger Kunstverein, Salzburg 2011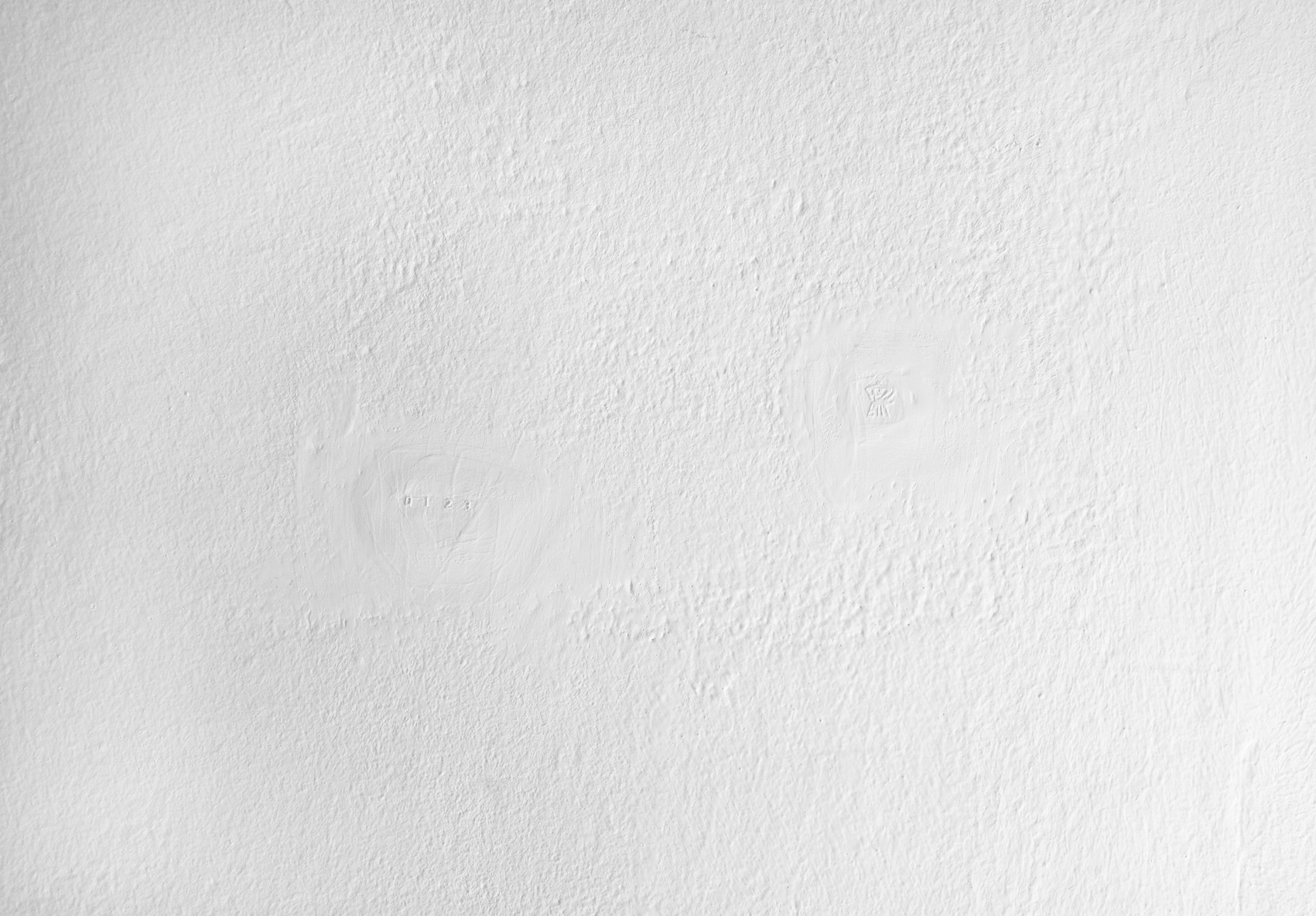 The walls are water surfaces. Personal objects of daily use are partly submerged therein. They have all disappeared from their everyday lives or gone underground. …the one simply does not want to whisk the egg white till stiff anymore for a while, others cannot be found anymore with the best will in the world—and that's maybe for the best. The objects prefer to drift anonymously in the >Dead Sea< for a while. We don't know anymore which objects we deal with because we can only recognise reliefs of letterings. They are all anonymous and underground.
Plaster casts from 2 x 3cm to 4 x 5cm
Photo: Sabine Jelinek
fischer
University of Art, Linz 2011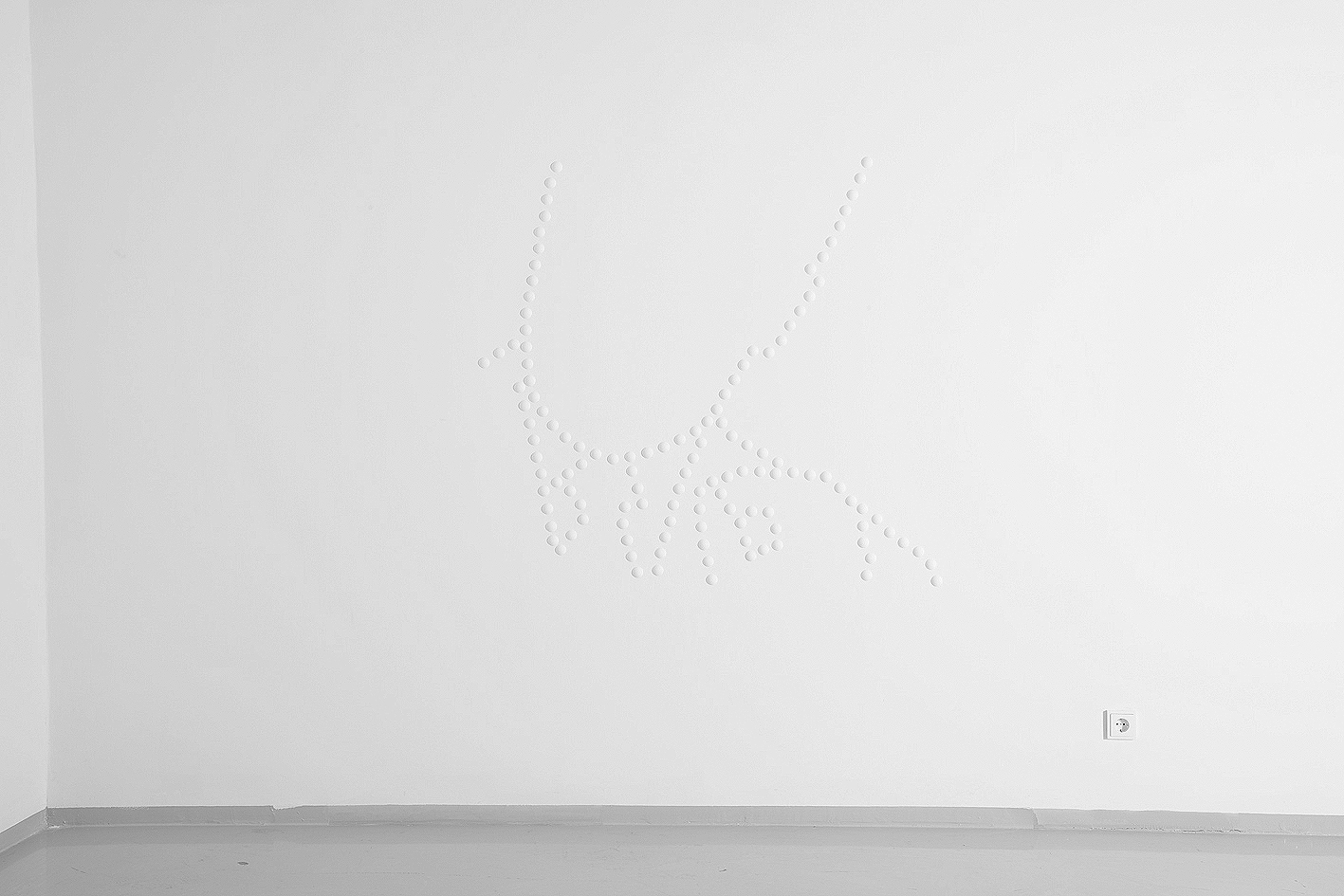 Hand-made white plaster spheres are transferred on walls.
What emerges is a relief that the viewer can explore visually but also haptically.
Our eyes are wandering over the image, trying to get hold of something in the truest sense of the word.
>> getting hold of << the work happens via the sensors of the fingers. Compared to the rough wall, the elevations are smooth, almost gentle, to the touch.
The central subject of this work is the election poster of Heinz Fischer for the presidential election 2010. During election campaigns, we are exposed to a flood of always the same visualizations, which results in oversaturation very soon. This work is an attempt of slowing down the fast pace of our lives in a slow medium, by stimulating our sensory and motor functions.
Linz 2011, University of Art and Design: installation, 125 hand-made plaster casts         120 x 140 cm
schafes Eck
University of Art, Linz 2011